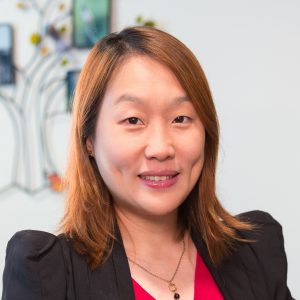 Senior Counselor of University
Associate Fellow, Certified Counselor, Hong Kong Professional Counselling Association
Somatic Experiencing® Practitioner (SEP) (HK1)

體感治療師

Integral Somatic Psychology® (ISP) Practitioner
Bodynamic Somatic Psychotherapy (Foundation and Shock Trauma (in progress))
Assistant, Dynamic Attachment Re-patterning Experience (DARe)
Satir Family Therapist
Certified Hypnotherapist
Master of Social Sciences (Counselling), HKU
Bachelor of Social Science (Psychology), CUHK
Language: Cantonese, English, Putonghua
Accept SE student clients only. Session Fees for donation.
| Given Name | Family Name | Chinese Name |
| --- | --- | --- |
| Vava | Kwok | |
SEP cum SE Assistant and ISP Practitioner Status:
SE Assistant approved to assist all training levels and to provide personal sessions for the Beginning and Intermediate Levels.
ISP Practitioner.
Detail Descriptions:
 Vava has been a University Counselor since 2008, providing counselling for university students ranging from adolescent undergraduates to adult postgraduate students and from local Hong Kong, Mainland Chinese to overseas international students. She offered counselling for students with a variety of issues including Depression, Anxiety and Stress, Suicide, Low Self Esteem, Attachment Wounds, Grief and Loss, Trauma and Crisis, Sexual and Physical Abuse, Family Dynamics, Intimate Relationships, Interpersonal Conflicts, Adjustment, Personality Disorders, Personal Growth and others. She also provides consultation and mental health training to university faculty and staff members. Before being a University Counselor, she provided counselling to teenage girls who had family problems and had to reside at a hostel.
Vava has also been assisting for many years in Satir Family Therapy training as well as in Family Reconstruction Camps including the Annual Retreat Camps of HKU Master of Social Science (Counselling) Alumni Association. She had co-taught Family Therapy and Family Reconstruction with Sister Agnes Ho. She has been an assistant in SE training and DARe training.
Specialties:
Family Therapy, Intimate Relationship, Self Esteem, Suicide and Self-Harm, Trauma, Grief and Loss, Attachment Wounds, Depression, Anxiety, Hypnotherapy, Mindfulness
Credentials and Licences:
Hypnotherapist, International Medical and Dental Hypnotherapy Association
Critical Incident Stress Management (CISM), University of Maryland, Baltimore County
Mental Health First Aid instructor, Mental Health Association of HK
Mindfulness Based Stress Reduction (MBSR), Hospital Authority (w/ Helen Ma)
Integral Somatic Psychology® (ISP) (w/ Dr Raja Selvam)
Perinatal and Prenatal Embodiment (w/ Yiri Dollekamp)
Ego State Therapy (w/ Wollie Hartman)
Bodynamic Somatic Psychotherapy – Self Worth (w/ Kristina Vasiljevevaite)
Bodynamic Somatic Psychotherapy – Foundation Training (w/ Founder, Lisbeth Marcher)
Bodynamic Somatic Psychotherapy – Motion in Emotions (w/Ditte Marcher)
Dynamic Attachment Re-patterning Experience (DARe) (w/ Patricia Meadows)
Sounder Sleep System™ (w/ Paris Kern)

Bodynamic Somatic Psychotherapy – Attachment, Connectedness and Contact (w/ Ditte Marcher)

Bodynamic Somatic Psychotherapy – Deepening Character Structures (w/ Ditte Marcher)

Bodynamic Somatic Psychotherapy – Constructive and Destructive Stress (w/ Ditte Marcher)

Bodynamic Somatic Psychotherapy – Constructive Shame (w/ Ditte Marcher)

Bodynamic Somatic Psychotherapy – Developmental Trauma (w/ Ditte Marcher)

Bodynamic Somatic Psychotherapy – Essential Bodynamic Tools (w/ Ditte Marcher)

Bodynamic Somatic Psychotherapy – Shock Trauma (w/ Ditte Marcher) (In Progress)
Somatic Experiencing Journey:
SEP HK1 (Beg w/Maggie Philips and Raja Selvam) (Int w/Berns Galloway and Sonia Gomes) (Adv I w/Sonia and Raja)
Assisted HK3 (Beg w/Sonia) (Int w/Maggie Philips and Sonia) (Adv w/Sonia and Raja)
Assisted HK5 (Beg w/Sonia)(Int w/Pedro)(Adv II w/Raja and Sonia)
Assisting HK6 (w/Pedro)
Personal Contacts:
HK mobile/Whatsapp/WeChat: (852) 9672 8488
email: vavakwok@hotmail.com