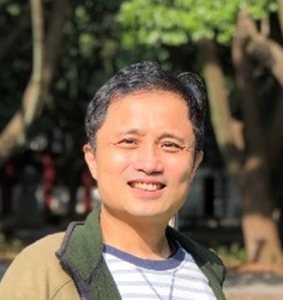 Somatic Experiencing® Practitioner (SEP)
Somatic Psychotherapist (US Association for Body Psychotherapy)
Dance Therapist (BTD®)
Social Worker (RSW)
Certified Primal Deconditioning Facilitator
Certified Ego State Therapist (ESTI)
Certified NGH Instructor
Associate Fellow (HKPCA)
BSW, PgD (Mental Health), MSSC (Counselling-Distinction)
| Given Name | Family Name | Chinese Name |
| --- | --- | --- |
| Simon | Sng Kwong Wo | 孫廣和 |
SEP cum SE Assistant and ISP Practitioner Status:
SE Assistant approved to assist all training levels and to provide personal sessions for the Beginning Level.
ISP Practitioner.
Detail Descriptions:
"My unique approach to working with clients is a bridge between Eastern & Western healing arts. I devote myself to assisting people becoming truly alive, conscious, responsible, and to developing the capacity to love and to heal. To this end, I utilize over 30 years of clinical experience and training in a variety of healing art modalities."
Simon is the Founder / Psychotherapist / Clinical Consultant of Life Origin –Centre for Expressive & Somatic Psychotherapy in Hong Kong since 2008 (www.lifeoriginhk.com). Founder of the Chinese Society of Movement & Body Psychotherapy (CSMBP). The developer of Somatic-based Emotion Regulation Techniques (SERT).
My clinical approaches are Somatic-based Trauma Therapy, Mindfulness-based Dance Movement Therapy, Embodied Moving Meditation, Ego State Therapy, Attachment-based Therapy, SERT, Inner Child Healing, Couple Therapy & Group Psychotherapy.
Simon wrote a book called Life Origin – A Therapist's Inspiring Thoughts on Life & Healing Arts (2008). He also had a chapter on "the use of dance & movement therapy in the inner child healing – Principles, techniques & methods" in one Dance Movement Therapy book (2018).
Simon received the Award of Distinguished Natural Medicine Professional (The 3rd World Conference of Natural Medicine, 2009) & made the presentation in various conferences, leading workshops & training in Hong Kong, Taiwan, Macau & China.
Specialties:
Simon specializes in treating Anxiety, Depression, Phobia, OCD, PTSD, Complex PTSD, Developmental, Relationship & Shock Trauma.
Body Psychotherapy Training:

Integral Somatic Psychology (ISP) (2019)
Bodynamic Somatic Psychotherapy (Foundation Year) (2019)
Hakomi Mindful Somatic Psychotherapy Training Level 1 & 2 (Hakomi Institute of CA, 2017)
Hakomi Method Training Level 1 & 2 (Hakomi Educational Network, 2015)
Bioenergetic Analysis Training (Foundation Year) (2014)
Neo-Reichian Breathing & Body Work Training (2005)
Transomatic Dialogue Therapy Training (2005)

Attachment-based Psychotherapy Training:

Dynamic Attachment Repatterning Experience (DARe Level 1-4) (2021)
Primal Deconditioning Facilitator Training (2004)
AEDP Level 3 (2018)

Attachment-based Couple Therapy Training:

EFT (Couples) Externship & Core Skills (2018)
AEDP for Couples (2019)
Transformative Couple Therapy (2021)

Others:

Sandplay Therapy Systematic Training
Drama Therapy Core Modules Systematic Training (DT Institute of LA) (2014)
Certified DanceAbility Teacher (2019)
Certified Laughter Yoga Teacher (2018)
Certified Sounder Sleep Teacher (2021)
First took SEP HK-1 (Beg. I w/ Raja 2008)
Continue SEP HK-2 (Beg. I/II w/ Sonia 2013)
Continue SEP HK-2 (Beg. II/III w/ Sonia 2014), (Int. I/II w/ Cornelia Rossi 2014, Int. II/III w/ Sonia 2015), (Adv. I w/ Sonia 2015, II w/ Raja 2016)
Assisted HK4 (Beg. w/ Sonia 2016, Int. w/ Sonia & Dave Berger 2017, Adv. w/ Raja & Sonia 2018)
Assisted HK5 (Beg. w/ Sonia 2018, Int. w/ Pedro 2019, Adv. I w/ Raja 2020, Adv. II w/ Sonia)
Assisted Shanghai (Beg I/II w/Pedro 2022)
Assisted HK6 (Beg. Int. & Adv. w/ Pedro 2021-23)
Personal Contacts:
HK mobile / WhatsApp :(852) 59301196
Email :kwsng02@yahoo.com.hk
Facebook / WeChat :kwsng02
Language:Cantonese/ Putonghua/ English
Fee:HK $800 (1hr), 50% off (video recording for clinical education)