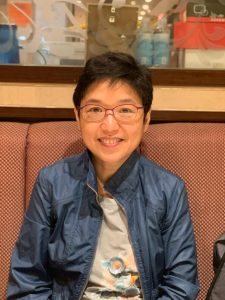 Registered Social Worker
Certified AEDP Therapist
Social Work Fieldwork Instructor
Somatic Experiencing® Practitioner (SEP)
| Given Name | Family Name | Chinese Name |
| --- | --- | --- |
| Johanna  | JEN | 任瑞華 |
SEP cum SE Assistant and ISP Practitioner Status:
SE Assistant approved to assist and provide personal sessions at all levels and individual case consultation at the beginning level.
ISP Practitioner.
Detail Descriptions:
Having worked in Family and Counselling Services in Hong Kong and Canada (1989-2004), she is now Senior Counselling and Training Consultant at the Human Empowerment and Achievement Training,  Caritas (2007 to Present), as well as a Private Practitioner in Psychotherapy.
She was Honorary Lecturer for the MSocSc Program (Social Work), HKU teaching Marital Counselling (2013-16) and a Fieldwork Instructor supervising BSW and MSW students in HKU (2009 to 2016) and CU (2017 to 2020). She also provides Clinical Supervision to NGOs in Social Work.
She had intensive training and supervision in Gestalt Therapy, Multi-Generational Family Therapy and AEDP Therapy. She also studied Mindfulness, Integral Somatic Psychology and Bodynamic Somatic Psychotherapy and Analysis System, which are valuable resources in enhancing self and others in embodiment.
Specialties:
She has worked extensively with clients dealing with Attachment Injury in intimate relationships coupled with Family-of-Origin issues, Mental Health issues such as Depression, Anxiety and Social Phobia, Early Developmental and Sexual Traumas, and Grief and Loss Issues.
Credentials and Licences:
Master of Social Science (Social Work- Family), University of Hong Kong

Professional Certificate in the Theory and Supervised Practice of Family Systems Therapy, Pacific Coast Family Therapy Training Association, Canada (Specialization in Multi-Generational Family Therapy)

Level 1 Certificate in the Psychobiological Approach to Couple Therapy, PACT Institute, USA

Bodynamic International (Certificate in Somatic Developmental Psychology Foundation Training)
Somatic Experiencing Journey:
First took SEP HK-1 (Beg. 1 w/ Raja 2008), (Beg. 2 w/ Maggie Phillips 2009).
Re-took SEP HK-2 (Beg. 2 & 3 w/ Sonia 2014), (Int. 1 & 2 w/ Cornelia Rossi 2014, Int. 2 & 3 w/Sonia 2015), (Adv. 1 w/ Sonia 2015, Adv. 2 w/ Raja 2016).
Assisted HK4 (Beg. w/ Sonia 2016, Int. w/ Sonia & Dave Berger 2017, Adv. w/ Sonia & Raja 2018).
Assisting HK5 (Beg. w/ Sonia 2018, Int. w/ Pedro 2019, Adv. w/ Sonia & Raja 2020).
Personal Contacts:
HK mobile : (852) 62069307
Email : jenjoh@gmail.com
WhatsApp : (852) 62069307
Skype : johanna.jen
Facebook : Johanna Jen
WeChat : (852) 62069307
Language: Cantonese/ Putonghua/ English